The master of public administration is a professional 42-credit graduate program designed to prepare students for managerial and other careers in the government and nonprofit sectors. Graduates are working in national, state and local government offices, including: the NJ Dept. of Labor, Dept. of Human Services and the Treasury; in the US Dept. of Transportation, Dept. of Human Services, and Depts. of Housing and Urban Development; in the Camden School District and Municipal Governments in the state; and at the United Way and other NGO's.
The Rutgers–Camden MPA program offers spring and fall admissions, an established curriculum, small classes, expert advising and mentoring, and the opportunity to work closely with our distinguished faculty.
Admission Requirements
A baccalaureate degree from an accredited undergraduate school
Official transcripts showing all coursework from undergraduate and graduate schools
Three letters of recommendation
A statement regarding the applicant's personal and professional goals and experience
A current resumé
Application Deadlines
Spring 2023 Priority Deadline: December 1st
Fall Deadline: June 1st
Degree Requirements
The M.P.A. program provides professional competencies in public administration and gives students a broad understanding of both theory and current issues. Students become competent at defining public problems, developing and communicating creative solutions, and implementing ethical and practical courses of action. All M.P.A. students complete a set of core knowledge courses; a set of required and elective courses.
Specializations
Public Management
Community Development
Accreditation
The M.P.A. is a NASPAA Accredited program.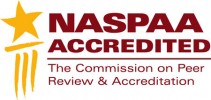 Coverdell Fellowship (MPA)
Graduate Faculty
Visit the Public Administration/Public Affairs Graduate Faculty Listing.
Contact the Department
Dr. Angie McGuire
(848) 932-4750
angie.mcguire@rutgers.edu
Program Website
Visit the Department of Public Policy and Administration website.